A speech by the late Sen. Strom Thurmond's son prompts civil war among 2016 GOP candidates.
During todays South Carolina senate session, the youngest son of the late Sen. Strom Thurmond, State Sen. Paul Thurmond, gave an impassioned speech that called for the removal of the confederate battle flag from the grounds of the state house. There was an immediate reaction by the 2016 conservative presidential candidates, both announced and expected, to move the remains of one of their patriarchs from the no-longer hollowed grounds of the palmetto state.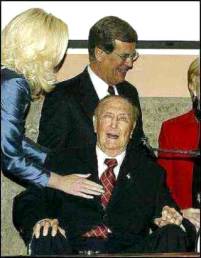 Emails quickly started to fill the inboxes of the Koch party base seeking donations to help cover the cost of the moving the former senator, and racist overlord, to either the state of Texas, or the state of Louisiana. Each of the e-mails were linked to two different GoFundMe accounts, but both appeared to offer the same services should they be fully funded.
A detailed examination of these accounts led back to the 2016 presidential campaign of former failed presidential candidate Rick Perry, and the other to future FoxNews consultant Louisiana Gov. Bobby Jindal. While each of the fund raising attempts offered similar benefits for the former segregation champion, the campaign of Mr. Perry went just far enough to make theirs the more appealing to the modern racist.
While the both of the fund drives offered the usual t-shirts, commemorative buttons, and personalized coffee mugs, the Perry campaign took it up a notch by adding a photo option with the contributor, Gov. Perry, and the deceased Strom Thurmond's remains in a variety of keepsake ornaments.
Both of the efforts have led to a private competition between the campaigns to show who has the better ability to draw support from the Koch mailing list. Several publicity deals are rumored to be in the works with right wing talk radio hosts Sean Hannity and Rush Limbaugh to reach the segment of the party who no longer are able to afford cable television.
A spokesman for Gov. Jindal, who tried to downplay the situation as a competition stated, "The Governor, after watching that non-american woman ask the legislators of South Carolina to remove such a sacred image as the Confederate flag from their state property, felt that it was important to offer the people who follow the true southern beliefs better options to show their respect to a man who championed their cause."
Our attempt to reach out to the Perry campaign for an explanation of their motives was met with a brief statement from an anonymous high level official, "We really don't care who's buried here as long as they ain't lookin' for Obamacare."
Both of the GoFundMe campaigns have grown to a 20% level and appear to be equally supported at this point.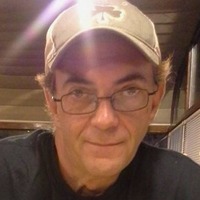 Latest posts by Mike Kelly
(see all)