Portraying Atticus Finch as a racist in her new book, Harper Lee stirs controversy.
"Ariana Grande molesting donuts, Atticus Finch a Ku Klux Klan pinup, it's been a crazy few days for America," said Noam Chomsky, the renowned linguist, philosopher, cognitive scientist, logician, political commentator, social justice activist and Dancing with the Stars finalist.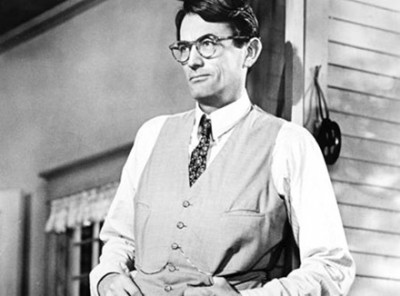 The 86 year old continued, "Like myself, Atticus has had a profound impact on America's social, political and cultural outlook, and the sound of the Twitterverse erupting in a wave of aggression is frightening. Unlike myself, however, he is a disgusting racist."
"Atticus Finch, a Desire to Lynch," the highly anticipated and much-hyped sequel to Harper Lee's 1960 Pulitzer Prize-winning novel "To Kill a Mockingbird," is due for release this coming Tuesday.
The New York Times was the first to review the novel. Michiko Kakutani, a writer for the daily newspaper, labelled the 21st-century successor an "utterly volatile novel, the literary equivalent of explosive diarrhoea."
Thanks to Kakutani's review, many people now view Atticus Finch in a different light. Once regarded as an upright citizen, a legend of literature for all the right reasons, the single father of two is now considered morally corrupt, disgusting, and, in the words of BBC News, "a bit of a shit." After defending a black man accused of raping a white woman, albeit frivolously, Finch was called wise, honourable, basically a modern day Jesus, minus the beard and successful father.
Kakutani writes, "Long gone are the days when Finch was the poster boy for America's moral conscience. Once a kind, gifted lawyer, played beautifully by Gregory Peck in the 1962 movie, the one time protagonist is now the enemy. In the latest novel, sadly, Atticus, with a KKK tattoo on his left ass cheek, is unashamedly racist."
Oprah called "Mockingbird the "second most important thing to happen to America," — the first being herself, obviously — however, the media proprietor, talk show host, actress, producer, philanthropist, and unofficial US president called "Atticus Finch, a Desire to Lynch," a "shock to the system, enough to make her start yo-yo dieting all over again."
In the latest novel, Atticus, according to the NY Times, leads a group of "anti-black lunatics." Kakutani finishes by writing, "'Mockingbird' gave us Finch, a soft spoken, lovable Walter White type, but the latest outing sees the rise of Heisenberg. Instead of busy promoting a new and improved blue crystal meth recipe, Harper Lee's character is busy promoting bigoted beliefs. Atticus Finch is an intense, evil individual, a man very much intent on breaking bad. Pardon the unforgivably poor pun."
The following two tabs change content below.
John Glynn
John Glynn is an Irishman, a lover of Guinness and a potato connoisseur. An expert in the area of mediocrity, he one day hopes to own a decent coffee maker and visit SeaWorld Orlando.
Latest posts by John Glynn (see all)