Fight Club: but not the way Chuck Palahniuk envisaged it

Obviously bored with their mundane lives, staff at a day care decided to inject a little excitement into their job — by starting their very own "Fight Club."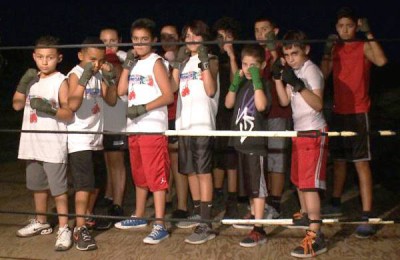 On Thursday, shortly after two workers were charged with child abuse, Erica Kenny, one of the innovative culprits involved, had this to say: "The rules of Fight Club vary around the world. The first rule of African Tribe Fight Club is to not to make a song and dance about the society, and that's pretty difficult for people who literally sing and dance every single day. The first rule of Philosopher's Fight Club is the realization that we on earth exist as both the fight and the club. The first rule of Children's Fight Club, our now defunct club, is not to tell your mom, and obviously one member broke this rule. The little shit!"
The Lightbridge Academy center in Cranford, New Jersey, where the sadistic brawling occurred, released a statement that read: "Although we were shocked and saddened by this isolated incident, the standard of fighting was very impressive. Children as young as three showing such exceptional cardio reserves, how can one not be impressed?"
Center officials say both the aforementioned Kenny, 22, and Chanese White, 28, have been fired. Rob Molloy, the day care center manager, has been cooperating with the Union County Prosecutor's Office, which is responsible for investigating the case. When asked for his thoughts, Molloy commented, "Look, this club should never have been formed, however, the first rule was clear: You do not talk about Fight Club, not to your mom, not to anybody. The second rule was to have fun and try your best, and most of the kids really enjoyed themselves. It wasn't all bad, you know, but one little fart ruined it for everyone involved. People with Alzheimer's are the perfect candidates to join fight club, not children, because these punks have vivid memories and cannot wait to share their experiences with the world.."
One of the children involved, three year old Charlie "Nunchucks" Doyle, in an interview with CNN, listed the other six rules of Fight Club. "Well, the third rule is simple — if someone says "stop," goes limp, or taps out, then the fight is over. The fourth rule: Only two kids can fight at any one time. The fifth rule: Go to the toilet beforehand, no potty breaks during a fight. Sixth rule: No weaponry of any kind, we're talking knuckledusters and the likes. Seventh rule: Fights will go on as long as they have to. And the final rule: If this is your first day in Fight Club, you HAVE to fight, no pussying out," said the hardened youngster.
According to authorities, Kenny recorded videos of the fights and shared the clips with close friends on social media. Unsurprisingly, the majority of parents whose children attended the center said they were disgusted and saddened by the lack of professionalism, although Charlie's father, Tommy Doyle, was less perturbed. "It's a tough world out there, unforgiving and cruel, so I'm glad my boy is physically and mentally equipped to face the pressures coming his way. I've been speaking with Dana White, the President of the UFC, and he says Charlie has real potential."
However, Lindsey Matthews, whose daughter also attended the center up until recently, was less pleased. Ms. Matthews told NJ.com that she was "so sad for every victim involved." "Whenever I asked my daughter about her day, you know, she would just shrug and mumble 'sorry, mother, I cannot talk about it. I have been explicitly and repeatedly warned. Unsanctioned disclosure of internal events is strictly forbidden.' It's quite disturbing to hear a 4 year-old talk like that," said the visibly upset 35 year-old.
Kenny and White now face up to five years behind bars.
Latest posts by John Glynn
(see all)