Vice-President Mike Pence is interviewed by our very own Jerry Duncan
ANNOUNCER
Live from under a rock in your backyard, it's The Jerry Duncan Show.
JERRY
Good morning listeners nationwide. Is it a good morning? We'll soon find out. Today on the show my guest is the 48th Vice President of the United States, Mike Pence.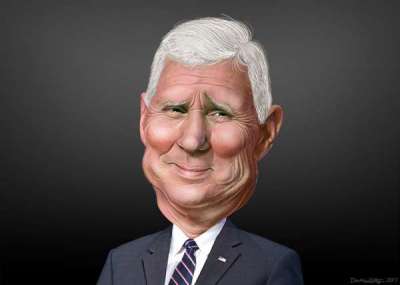 PENCE
God bless and all the great work you do.
JERRY
You got the wrong dude. I'm not Pat Boone.
PENCE
(worried) Oh my. Then who are you?
JERRY
I know you're a religious man. You just met Satan.
PENCE
It's hell, right? Is this The Jerry Springer Show?
JERRY
Congratulations. The blood test results came back and you're the father of Bart Simpson.
PENCE
No, no, no. What am I going to tell my wife? Forgive me Karen, I was drunk. How could I do that to Homer?
JERRY
It's a joke fella. Calm down. Catch a breath.
PENCE
Oh thank goodness. The Lord could have waterboarded me.
JERRY
Speaking of torture, aren't you working for a loser?
PENCE
No, no, no. People underestimate Donald Trump. He's signed more laws in 100 days than any president in office.
JERRY
They're not laws. Ever hear the term "Executive Order"? C'mon, name one that benefits Americans.
PENCE
Okay. "Buy American, hire American."
JERRY
(laughing) Have you been to a Trump hotel? Nobody speaks English. And how about daughter Bronco?
PENCE
You mean Ivanka.
JERRY
Whatever, so I missed a few letters. All her crap is manufactured in China.
PENCE
(Chinese accent) Me hear no evil. Speak no evil.
JERRY
You believe in abstinence. What's wrong with guys using rubbers?
PENCE
No, no, no. We need latex for gloves. Restaurants and hospitals could disappear.
JERRY
So would good old fun in the back seat of a car. Now once and for all, did the Russians interfere with our 2016 elections? 17 intelligence agencies concluded "yes." But the Trumpster said it could be somebody sitting on their bed that weighs 400 pounds. Who do you believe?
PENCE
Well, the only person that weighs 400 pounds is my good friend Chris Christie.  I'd have to disagree with the president.
JERRY
You heard it here folks, the Russians hacked our elections. The Trumpster is going to give you a spanking Mikey.
PENCE
He probably just twittered something bad about me.
JERRY
Through the magic of social media, here it is. "I'm cleaning out your desk Veep, you'll find your things scattered on the White House lawn. Sad."
PENCE
I can't believe it. I'm out of work. I was so close to being president. My wife already measured the drapes in the White House. That's how confident we were he'd resign.
JERRY
If it's any consolation, here's a going away present. It's a good book.
PENCE
(excited) The Bible?
JERRY
You might say that.
PENCE
I never heard of 50 Shades of Grey.
JERRY
Lots of stories about sinners. Enjoy. See you tomorrow everyone.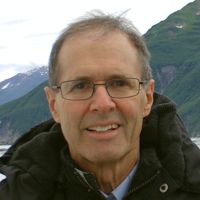 Latest posts by Dean Kaner
(see all)