Now available on our free Humor Times "News in Cartoons" app, the new edition: "Take a Knee and Bow Down to Guns."
In the latest edition of the News in Cartoons Humor Times app, called Take a Knee and Bow Down to Guns, the world's greatest editorial cartoonists (who populate our popular Humor Times magazine with great material every single month) review the latest news in the way only political cartoonists can.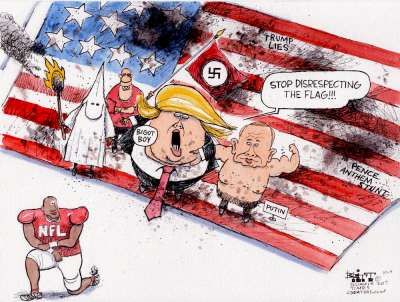 Each edition of the News in Cartoons Humor Times app features a string of hilariously biting editorial cartoons for the reader to swipe through, strung together with narrative captions — telling each week's recent news story in a very entertaining way.
See recent archives of the app on the website here. To see the most recent editions, however, you'll need to get the app!
The so-called "president" continues to harangue NFL players for their "take a knee" protests during the national anthem to protest unrestrained police violence against blacks. He seems much more concerned with curtailing their nonthreatening free speech rights than taking on the very real threat of gun violence and the ever-increasing mass killings happening all across our nation.
This is a very serious issue, and our incredibly talented editorial cartoonists do not take it lightly. However, their insightful and probing work does highlight the hypocrisy of lawmakers who bow down at the altar of the NRA so that they may continue to be blessed with huge campaign donations, while they continue to utter the same old useless refrain, "they have our thoughts and prayers."
Yes, it is times like these that call for the talents of the world's greatest political cartoonists, who help to give us perspective while taking unprincipled politicians down a few notches.
The News in Cartoons app also features a "bonus cartoon" each issue, as well as a funny video of the week — this week's short being a great one from comedian Jordan Klepper's new show on Comedy Central that takes a page from Stephen Colbert's old Colbert Report show, as Klepper plays the part of a right-wing media blowhard and hilariously exposes the hypocrisy of such talking heads in the process.
The Humor Times "News in Cartoons" app is available only for Android phones or tablets at this time, but we hope to be rolling out an iOS versions and others soon.
It's the FUN way to get your news!
"A beautiful brain-blast!"
— Dubious Cherce
"For those who love political cartooning, this e-mag has the best ones, including several Pulitzer Prize winners. They mostly (but not always) lean left, but don't spare anybody who doesn't deserve sparing."
— John L.
"Great for political humor enthusiasts. Funnest AND funniest way to get your news!"
— Jim L.
Each edition is basically an excerpt from the Humor Times monthly magazine (available in print or digital format all over the world), a publication that reviews recent news stories in hilarious fashion with editorial cartoons by the finest in the business, arranged with a running narrative above each cartoon, stringing them together to tell a recent news story.
Please share this page or the app itself widely on Facebook, Twitter, by email, etc! Help us make it go viral! (You can share right from the app, or from the Google Play store while you're there, or just share this post, and/or copy the link below.)
Thank you, and enjoy!