Wherein our intrepid talk radio show host interviews 'The Trumpsters': Donald Trump, Mike Pence, Jeff Sessions and Kirstjen Nielsen.
ANNOUNCER
Live from under a rock in your backyard, it's The Jerry Duncan Show.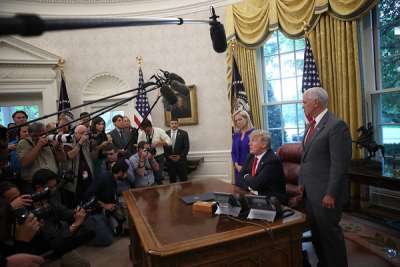 JERRY
Good morning listeners nationwide. Is it a good morning? We'll soon find out. Today on the show my guests are "The Trumpsters": President Donald Trump, Vice President Mike Pence, Attorney General Jeff Sessions and Secretary of Homeland Security Kirstjen Nielsen.
TRUMP
You insulted me the last time I was here. But I like strong people. Chuck Todd is weak. Chuck Todd is weak.
JERRY
Is there an echo in the room or is Trump a mental patient?
SESSIONS
No. The president repeats everything twice, because he can't remember what he said the first time.
PENCE
Shame on you, Judas. The Lord made Donald Trump in his image.
JERRY
Which is why I'm scared to die. What's your story Kristy?
NIELSEN
It's Kirstjen.
JERRY
What's with the letter "j" in your name?
NIELSEN
It's Norwegian for jerk.
JERRY
That's appropriate.
NIELSEN
I think so.
JERRY
Hey. Why did the Norwegian take a ladder with him to the supermarket?
NIELSEN
Is this a joke?
JERRY
No. It was a 60 Minutes episode.
NIELSEN
Why?
JERRY
Because he heard the food prices in Oslo were extremely high.
NIESEN
I was punked!
JERRY
Okay. This is serious.
JERRY
How do you sink a Swedish submarine?
NIELSEN
With a torpedo.
JERRY
No. Give it to a Norwegian crew.
SESSIONS
Ha ha. Punked again.
TRUMP
Shut up, Mr. Magoo. Your job is on the line. Special Counsel Mueller is on a witch hunt because of you. And to make matters worse, you gave cruel and punishing orders to separate migrant families at the border.
SESSIONS
But Mr. President. With all due respect, those were your orders.
TRUMP
They were not. They were not.
SESSIONS
Yes, they were. Sure as I'm the Keebler Elf.
TRUMP
Are you telling me that I pulled those orders out of my ass?
PENCE
Scripture says, "And the Lord opened the mouth of the ass…"
TRUMP
Shut up, Penster. Go down to the post office and salute a flag.
JERRY
You gave those orders, Trump. And Crusty enforced them.
NIELSEN
It's Kirstjen. And I feel bad for those people.
JERRY
Wait a minute. How bad could you feel? You were caught eating dinner at a Mexican restaurant in DC after saying all those derogatory things about migrants.
SESSION
Duncan, I know the history of invaders over our borders. Guess why there were only 5,000 Mexican soldiers at the battle of the Alamo?
NIELSEN
(interrupts) Because they only had two vans.
PENCE
What? I thought they were hiding from ICE.
TRUMP
Isn't my cabinet brilliant? No wonder I haven't fired them.
JERRY
We need to fix the immigration problem.
TRUMP
I agree. I told Congress they have two choices. It's either the illegals or Melania.
PENCE
It's a no brainer. We have the votes. Melania should start packing.
TRUMP
Oh good. Now I can invite some babes for a sleepover at Camp David.
JERRY
Quit skirting the issue. How are you going to fix immigration?
TRUMP
Everyone will leave the country and then return when I'm no longer president.
PENCE
But what if I'm the president after you're impeached?
TRUMP
Here's a Playboy. Trust me, you'll forget about immigration.
JERRY
See you tomorrow everyone.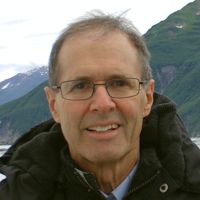 Latest posts by Dean Kaner
(see all)