Be the first on your block to get the hilarious, FREE Humor Times app! Did we mention it's free? New edition: "Donald Trump's European Vacation" – a cartoon review of Trump's recent scandal-plagued adventure in Europe!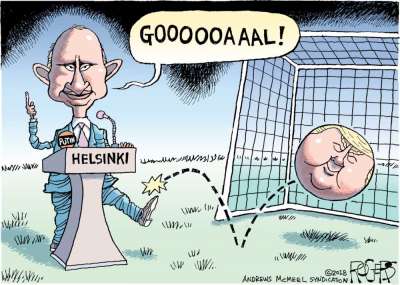 In the latest edition of the "News in Cartoons" Humor Times app, entitled Donald Trump's European Vacation, the cartoon review of the president's recent disastrous trip to Europe where he met with Putin, the world's greatest editorial cartoonists (who populate our popular Humor Times magazine with great material every single month) review the latest news in the way only political cartoonists can.
His performance was roundly denounced by nearly everyone, but of course the perpetually oblivious Donald Trump tweeted that, "The summit with Russia was a great success, except with the real enemy of the people, the Fake News Media!" Well, if he didn't like the news media's response, wait until he sees ours!
The Humor Times app, regularly updated to lampoon the latest news stories, also features a "bonus cartoon" each issue, as well as a funny video of the week.
The Humor Times "News in Cartoons" app is available only for Android phones or tablets at this time, but we hope to be rolling out an iOS versions and others soon.
It's the FUN way to get your news! Some reviews:
"A beautiful brain-blast!"
"Great for political humor enthusiasts. Funnest AND funniest way to get your news!"
"Awesome, lightweight, fun app, giving a review of the news through the eyes of some great editorial cartoonists!"
"For those who love political cartooning, this e-mag has the best ones, including several Pulitzer Prize winners."
Each edition is basically an excerpt from the Humor Times monthly magazine (available in print or digital format all over the world), a publication that reviews recent news stories in hilarious fashion with editorial cartoons by the finest in the business, arranged with a running narrative above each cartoon, stringing them together to tell a recent news story.
Please share this page or the app itself widely on Facebook, Twitter, by email, etc! Help us make it go viral! (You can share right from the app, or from the Google Play store while you're there, or just share this post, and/or copy the link below.)
Thank you, and enjoy!