A study of Aaron Rodgers' mustache has found it is the perfect substance for blotting up whatever's at the bottom of your bowl.
A Green Bay scientist has been experimenting for years on different ways to finish off soup at the bottom of the bowl. "Thirty two years to be exact," says Professor Ken LaFollette, a research scientist at the University of Wisconsin-Green Bay.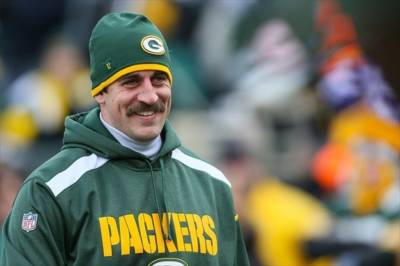 His quest started at a very young age when his mother slapped him across the backside of his head for drinking the last bit of soup out of his bowl when he was just 10 years old. His father encouraged him to research the issue.
"My dad told me to go to my room and figure out a solution to my problem. He told me to stay in my room for 10 minutes as he would be researching another problem in his room, and if I heard strange noises coming from mommy and daddy's room not to come in. He never did tell me what he was researching. But my father's research inspired me to follow in his footsteps."
So where most kids would lose interest in parental advice at such a young age, Ken took his father's advice to heart. He would work tirelessly over the next thirty-plus years to find a solution to the age-old problem of getting the last bit of soup out of the bottom of the bowl. "I really thought I found the perfect solution a few years back, when I used French bread to sop up the last of my tomato soup at dinner one night. My wife called me a disgusting slob. She's Italian too, and she called me a heretic for using bread to sop up anything other than pasta sauce. So the search continued."
Then while at a local bar one night, LaFollette noticed the Green Bay Packers star quarterback had quite a 'stache. "Who does that guy think he is, Wyatt Earp? I said while swilling my Pabst Blue Ribbon. The light bulb didn't go off right away, but when it did, I knew I had it. It was there for years right under my nose. Well not my nose, ha ha." However getting said 'stache would prove difficult for LaFollette.
"I approached Aaron Rodgers at an autograph signing and simply asked him if I could have his 'stache for some research. He looked at my funny and called security," the professor said. Although LaFollette did finally secure the upside-down smiley-faced shaped mustache, he refused to disclose how he got it.
"What I can tell you is it works great! No more tipping the bowl up, no more straws, no clanging spoon, sponges, or bread. This is truly a clean-cut way to get the soup out of the bottom of the bowl. The wife loves it too! She calls me her little Magnum P.I. I'm not sure who that is, but who cares!"
Latest posts by Dave Richards
(see all)