Wherein our intrepid talk radio show host interviews Republican Congresswoman Lauren Boebert from Riley, Colorado.
ANNOUNCER
Live from under a rock in your backyard, it's The Jerry Duncan Show.
JERRY DUNCAN
Good morning listeners nationwide. Is it a good morning? Not really. Today on the show my guest is Republican Congresswoman Lauren Boebert from Riley, Colorado.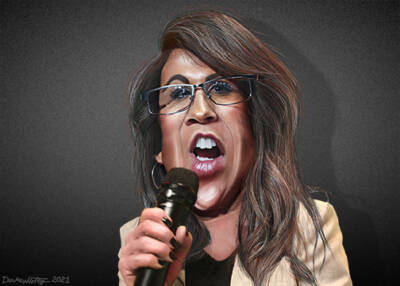 JERRY
Hi Congresswoman Bo Burp.
LAUREN
It's pronounced Boebert.
JERRY
This is my show, Toots. You are Bo Burp.
LAUREN
Okay, Scary.
JERRY
I'll pretend I didn't hear that. But speaking of scary. People think you and Congresswoman Marjorie Taylor-Greene are sisters. How do you explain it?
LAUREN
Well. We both love guns, but hate people. We want to overthrow our government. (thinks) We're ugly.
JERRY
Ugly inside and out!
LAUREN
I shouldn't say we hate people. Every Saturday night, I invite relatives to my home for a game of Russian roulette. We use a real gun with one bullet in the chamber. We have a blast playing.
JERRY
People can die.
LAUREN
Exactly. Last month, I lost Uncle Marv. He was the last player that night. The good news is his head is mounted in my den next to a moose. Looks fabulous.
JERRY
Statistically, 100,000 people die each year playing Russian roulette. It's mind blowing.
LAUREN
Yeah. But 5 out of 6 who try say it's harmless. My grandfather was the best Russian roulette player. He only lost once.
JERRY
Hey, Bo Burp. You are a big supporter of the NRA.
LAUREN
You bet. That's why you'll always find me shirtless, because I have the right to bear arms.
JERRY
Is it true that you dropped out of high school your senior year to be an assistant manager at McDonald's?
LAUREN
Yep. Got tired of flipping the bird at teachers, so I decided to flip burgers.
JERRY
Do you know McDonald's now has "The Alabama Chicken?"
LAUREN
Cool.
JERRY
Not cool. Even the chicken is inbred.
LAUREN
Wow. Just like my parents.
JERRY
Was that your only job?
LAUREN
No. I became a pipe liner for a natural gas drilling company.
JERRY
A what?
LAUREN
I was part of a team that laid pipe. We restored cracked pipes from leaks.
JERRY
Can you plug a butt hole from leaking gas?
LAUREN
I'm not a ventriloquist.
JERRY
You mean proctologist.
LAUREN
I always get them two mixed up.
LAUREN.
My career took a turn when my husband and I opened a restaurant in Riley called Shooters Grill. All the employees were armed. Everything was going great until 80 people got ill from our pork sliders at the Garfield County Fair. Get this, we got fined because we didn't have permits. That's bullshit!
JERRY
You're supposed to have a food handler's permit. It's the law.
LAUREN
I don't believe in laws. When restaurants were ordered to close because of COVID, I welcomed indoor dining.
JERRY
What happened?
LAUREN
I got my license suspended. Lost $369,000. That was the moment I decided to run for Congress.
JERRY
Why not? You meet all the qualifications of a Trumper. Little education, loves Fox News, and likes to lie.
LAUREN
Hey, I got elected to Congress. And don't have to do a damn thing except threaten Democrats and set off metal detectors when I'm wearing my pistol.
JERRY
All I can say is I'm glad you're not letting your education get in the way of your stupidity. See you tomorrow.
The Jerry Duncan Show
(c) Dean B. Kaner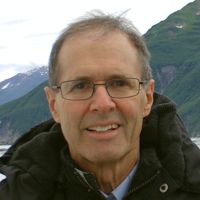 Latest posts by Dean Kaner
(see all)