It appears the former president plans to hold a rally in every controversial location he can possibly think of.
Donald Trump will embark upon the 2028 race for the presidency by holding a rally in another controversial location, Oklahoma City on April 19, 2026. He will not, therefore, reprise his controversial opening rally in the 2024 presidential sweepstakes by appearing once more at Waco Regional Airport, in Waco, Texas, The former president held a rally there in 2022 on the anniversary of the FBI siege of the Branch Davidian compound, which occurred in 1993.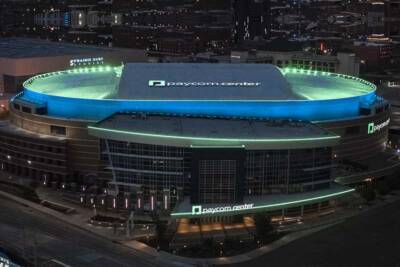 Trump spokesman Steve Bannon said in a statement that accusations about holding the rally in Oklahoma City, the site of the bombing of the Alfred P. Murrah Federal Building in 1995, which occurred at great loss of life, are intentionally evocative, and "horseshit!" The rally, which is expected to attract more than 25,000 spectators, will be held at the Paycom Center in downtown Oklahoma City.
Paycom seats some sixteen thousand persons, and Bannon said the overflow will be retained in metal enclosures provided by Okie Dokie Stockyards, an Oklahoma purveyor of beef, which has strong ties to the Trump campaign. Crowds are expected to be orderly, said Clyde Dokie, owner of the stockyard, "but if they ain't," then he will have ODS employees armed with electric cattle prods and tasers, on hand to keep order.
This reporter was present when Trump was interviewed this morning, on location in Oklahoma City, two days before the rally, by Fox News anchor Tucker Carlson. Carlson asked the ex president if he expected any trouble from protesters. Trump said that he eschews violence, but if protesters do show up at the Paycom to embarrass him and Christ, and the "Republican faithful" assault the BLM and Antifa perps, then Trump will pardon his people when he becomes president "for the fourth time in succession."
Carlson asked how he felt about his fifth conviction for federal crimes and for alleged "crimes against humanity." Trump shrugged, He was clad in a standard orange jumpsuit, which he will use for the remainder of his 6 months at Riker's Island. (Trump was on a prisoner release program which put him temporarily at Oklahoma State Penitentiary, in order for him to attend the rally).
He said that he hasn't had any trouble with other inmates. When asked if this owed to the six large, armed Secret Service guards accompanying him in lockup, Trump scoffed and said that "the criminal community gets me," and is very attuned to his "personal philosophy and world view." When you get down to it, he said, "life really is just all about cigarettes and hooch."
Trump added that he much preferred the black and white outfits provided when he did his six months in Atlanta USP. According to Trump, it was "easier to sneak away" from the press when not wearing the neon suits from state prison. He said he and the warden — "a terrific Republican, but with a slice" — played golf daily. "But he wouldn't let me have a mulligan," complained Trump, who said he understood, since he was there for rehabilitative reasons.
Carlson questioned Trump briefly on some of the more pressing issues that have been bandied about in the run-up to the campaign, and which, he pointed out, had changed somewhat since Trump was out in the "real world." Carlson brought up the issue of age. When Trump completes a prospective fourth consecutive term as president, he'll be more than 86 years old.
"Hell, Biden did it," said Trump. "That sonofabitch!" He added that Biden was not, in fact, really president, and that Trump's first order of business as president would be to hang Biden "from a sour apple tree."
Abortion came up next. Carlson asked what a Trump presidency would have to say about the topic, given that the ratification of the 28th Amendment, legalizing abortion, except in Texas and Missouri, had seemed to settle the issue two years before. Trump answered that he will, with a special tax, raise the cost of an abortion to $200,000, thereby putting the procedure under the purview of more responsible, "well-heeled" citizens. "They'll do the right thing," he said, "they're rich!"
When questioned about foreign policy, Trump said he would "end the war in Ukraine," citing the United States' lack of interest in a "territorial dispute" such as existed there. Carlson told Trump that the war had ceased at about the same time that Putin did. (Putin was vaporized by a burst of rounds from an AR-15 twelve months ago, but Trump seemed to have no knowledge of this). Trump then pressed a button, and a guard walked into the cell, bearing a can of chilled Diet Coke. "Thanks, Bull," said Trump. The guard told Carlson that Trump was getting tired and that it was time for the ex-president's nap.
Carlson then wrapped up the interview. Asked about his plans after the presidency, Trump said that he would expand the Trump brand to the western U.S. by licensing his name to a 200-ft. grain silo in Sodomy, Wyoming, a state in which present Governor Liz Cheney is rumored to have expressed a dim view of such an enterprise.
Trump had a final surprise: matrimony is in the offing. After Melania divorced him following the 2024 election — which Trump won, but he did not serve — Trump "played the field." According to CNN's Anderson Cooper, Trump had a number of conjugal visits with Georgia Rep. Marjorie Taylor Green while he was in prison in Atlanta. But, during his sojourn to Riker's, he met, fell in love with and later became engaged to Rex "Sweetcheeks" Miller, captain of the prison weightlifting team. The couple will honeymoon at Lake of the Ozarks.
Latest posts by Bill Tope
(see all)