"ISIS can wait, we've got a game to play in Brazil," said the president, until he was informed of their mocking tweets.
Responding today to questions regarding war-torn Iraq, US President Barack Obama stated, "Right now, we don't wish to divulge any more information, we have other more pressing matters to focus on, like defeating Belgium at the World Cup."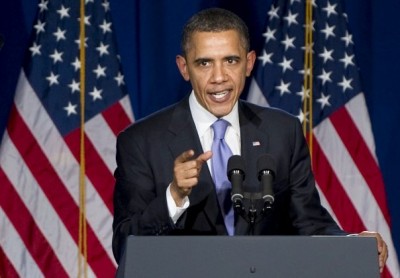 However, when the ISIS-inspired tweet #bringbackourhumvee was mentioned, all bets were off.
The tweet by ISIS supporters mocked the first lady Michelle Obama's tweet campaign to #bringbackourgirls, a reference to the schoolgirls kidnapped in Nigeria. The tweet celebrated the tanks, Humvees, guns and ammo they looted in Iraq, with many of the arms being shipped back to al Qaeda-linked rebels in Syria.
In response, the president reacted in an aggressive, no nonsense manner. "We will not be intimidated by the Islamic State of Iraq and al-Sham, we are the United States of America, I am the President, and Jay Z is a very close friend of mine," Mr. Obama stated at a hastily-arranged press conference.
"All options remain on the table. If ISIS thinks this is a game, they are dead wrong. The games are in Brazil. We will respond to their bullying in the strongest possible way, with all means at our disposal," he said.
At that point, the president didn't just announce his bold plan to counteract the jihadists American Humvee jokes, he implemented it, in real time, right there at the press conference. Projecting his smartphone screen onto a large display for all to see, he took to Twitter and typed: #notseeingyourteaminBrazil.
"Game, set and match," declared President Obama.
Latest posts by John Glynn
(see all)