Tells 2015: "Good luck, sucker!"
Aging year 2014 resigned today, December 29th, 48 hours earlier than expected, citing ethical fatigue and "total disgust with humanity."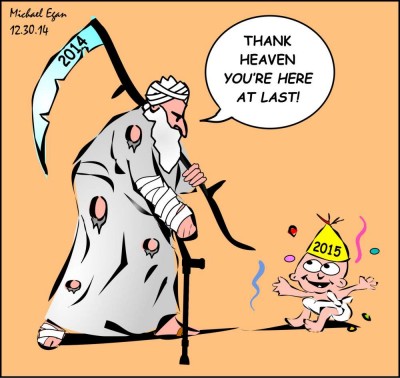 Badly cut and beaten by the events of the past 12 months, the old codger said he no longer cared that Earth would be in moral, political and spiritual limbo until on or about 1 January, 2015, when Baby New Year is expected to arrive.
"I doubt anyone will even notice that I'm gone," 2014 said, adding: "Which is fine by me. I'm totally ashamed to be associated with the events of my reign."
2014 noted particularly the rise of ISIS, videotaped beheadings, accelerated climate change, George Bush's paintings, Miley Cyrus having sex, Justin Bieber not, "and guns, guns and guns."
"What pisses me even more," said 2014, 'is that my good things won't be remembered, like the Pope finally admitting that yes, he is a Catholic, and Michelle Bachman's retirement."
He said he was leaving a note for his successor: "Good luck, sucker!" it reads. "You'll wish you stayed in the future."
[Ed. note: Due to early partying at the Humor Times office, as we couldn't send 2014 off soon enough, this article is being published late. That hangover lasted a long time! Sorry about that, Michael.]
The following two tabs change content below.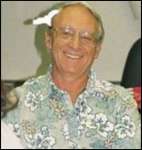 Michael was born in South Africa at the height of the apartheid era He quickly became involved in the underground resistance movement, knew Nelson Mandela and other prominent revolutionaries, some of whom later moved into privileged positions formerly occupied by whites. After several exciting escapes, he was forced to flee the country in disguise. He successfully made his way to the UK and gained his PhD at Cambridge on a university scholarship, He then pursued the dual career of college professor and social revolutionary, provoking academic and political mayhem wherever he went. Having thus failed miserably at both politics and education, he now cynically rails like Diogenes at the foibles of mankind in bitter satires and faintly subtly edgy political cartoons. History will, however absolve him. In 2006 he discovered a new Shakespeare play, but it's going to take a new generation to acknowledge it. Check out his website,
Editorial and Political Cartoons
.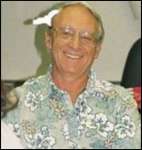 Latest posts by Michael Egan (see all)