Secret Service director wants 'fake' White House to train agents
Joseph 'Joe Joe' Clancy, the new head of the party-loving Secret Service, has just asked Congress to spend millions on building a fake White House so agents can actually protect the real one.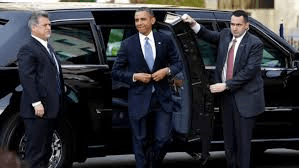 "'Fun House,' that is the mock White House, is not just important, it's vital," Director Joseph Clancy told a House Appropriations panel Monday. But after the latest embarrassment of agents running around the White House naked after a night of drinking, lawmakers seemed skeptical of Clancy's leadership qualities, as well as his request.
"You want to build an $8 million Fun House for training?" asked a stunned Rep. Harry Rollins.
"Yes, preferably with a Laser Quest" Clancy replied.
Obviously concerned, Rollins stated, "I have concerns about that – I want to be supportive – but I have concerns about giving you $8 million for a replica White House, although Laser Quest sounds interesting."
Sensing some interest from Rollins, Clancy contended the Secret Service training facility in Beltsville, Maryland, about 22 miles from the actual White House, is a "depressing sight."
"Right now, basically, we train in a barn," Clancy said. "We are surrounded by makeshift fences. We don't have bushes, we don't have fountains, we don't even have a smoothie bar, for the love of god. Even our canines, responding on hard surfaces rather than grass, are border collies. We need more muscular mutts, not sheepdogs. If you give us the green light, I bet you will see a drastic improvement in performances. Care to accept the wager, sir?"
Before slamming the table with a clenched fist, Rollins stood up and roared, "you're on."
The Secret Service has been plagued by a series of high-profile security lapses, including agents failing to stop an armed fence jumper, a drone and even Robert Durst from reaching the White House. The latest incident involved two off-duty agents pictured lounging nude on the steps of the White House, frat sized paddles in hand.
Latest posts by John Glynn
(see all)