"19 Kids and Counting" stars, the Duggar family, rank sins, rating their own as "God-condoned."
The Duggar family, who are stars of TLC's hit reality TV show, "19 Kids and Counting" were rocked by scandal recently when oldest child Josh Duggar revealed that he had molested at least 5 underage girls, some of which included his sisters.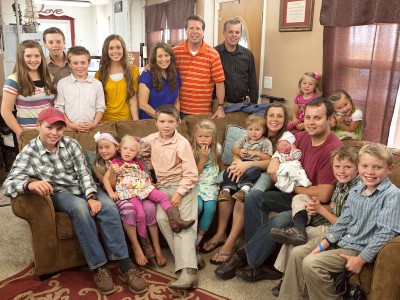 Josh has since apologized for his actions and the Duggar family reveals that the incident has brought them closer to God. However, a member of the Duggar family, who asked that we not reveal their identity, has revealed that what Josh did is still not as great as a sin as homosexuality.
"The Bible speaks of great men who had relations with girls as young as 10 years old," the Duggar family member said.
"In fact, our family feels Josh did nothing wrong in the eyes of God. He was just using his God-given right as a holy man to have what the Bible says is a beautiful thing with young girls." The family member went on to add, "What Josh did isn't a sin, according to the Good Book. It's not like he touched another man which IS a big sin."
The Duggar family's stance against gay marriage has been known for months. They have gone on record as saying that LGBT individuals are a threat to Christian family values and that marriage should be between a man and a woman.
"Josh didn't touch a boy, he simply touched a girl which is natural," the Duggar family member told this writer. "Homosexuality is a greater sin than having sex with a child. The Bible does not condemn those who have sex with children, but it does condemn homosexuality. In Leviticus, chapter 20, verse 13 it says, 'If a man practices homosexuality, having sex with another man as with a woman, both men have committed a detestable act. They must both be put to death, for they are guilty of a capital offense.'"
When this writer asked the Duggar family member what they thought of Josh touching his sisters, they laughed and said, "They did that in medieval times to carry on the lineage! Men in the Bible had relationships with their sisters. If Josh lived in Biblical times he would be celebrated as a great man, not shamed on social media. It's not a sin if it's not mentioned as so in The Bible."
Josh Duggar is not facing any charges. Josh admitted to touching young girls when he was 14 years old. The incidents were not reported to police until 2006, and the statute of limitations has now long since passed. "That proves that God sees no sin in what Josh did," the Duggar family member said.
TLC has pulled "19 Kids and Counting" from its TV schedule. The network canceled "Here Comes Honey Boo-Boo" amid similar circumstances when Mama June started dating convicted child molester Mark McDaniel.
Yet the Duggars aren't worried. "Thy will be done," the Duggar family member said. "We pray for our enemies and friends alike. If they had God on their side, perhaps they could accomplish great things like we feel Josh can and will do."