More fun than you can shake a nuke at: Putin's military theme park is fun for the whole family.
Fancy a lunch of boiled brown bear and beetroot? How about shopping for Vladimir Putin accessories: bobble heads, pin badges and fridge magnets? Instead of queuing up to ride rollercoasters, how about entering a military-styled obstacle course? Welcome to Putin Park: come with nothing but aspirational dreams, leave with nothing but perpetual nightmares.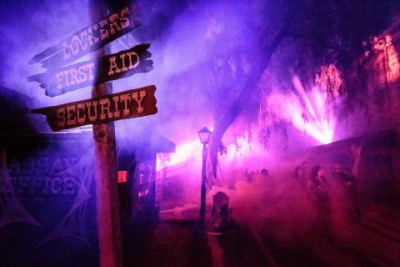 An hour's drive from Moscow, the military theme park is located in Kubinka. Here, rather worryingly, children as young as three fire grenade launchers and fight for their lives in true Hunger Games fashion. On Tuesday, bare-chested and riding a white stallion, Vladimir officially opened the doors to Putin Park. The tourism-boosting move comes at a time of heightened patriotism and armed conflict.
Using the event as a platform to drop yet another bombshell, Putin announced the addition of 400 new intercontinental missiles to Russia's nuclear arsenal. Commenting on the theme park, the Downton Abbey enthusiast said: "This theme park will prepare our young people for World War III. It also offers a fun day out for all the family. This is a landmine-littered Disneyland, quite literally."
President Putin spoke in front of a military choir and balalaika orchestra, who belted out a powerful rendition of R.E.M's It's the End of the World. According to Vlad, the 400 new nuclear missiles are "capable of overcoming any defence systems devised by the U.S."
Echoing these sentiments, Russia's deputy defence minister, Anatoly 'Anti-Christ' Antonov had this to say: "Big-ears Obama is provoking an arms race with Russia. Sure, Josh Duggar molested innocent children, but the leader of the Free World is molesting America's safety way more explicitly."
The 44th and current President of the United States responded by accusing Antonov of unwarranted scare mongering. "This nuclear threat is unjustified. I just blew off 18 holes with Phil Mickelson to make this five-second statement."
Alexander Zaldostanov, affectionately known as the Satanic Surgeon, leader of the pro-Putin biker group the Bare-Chested Brutes, who was enjoying the thrills of Putin Park on its opening day, said: "When I look around and see all these smiling, brainwashed kids, you know, it makes me feel proud to be Russian."
Bars and brothels will be opened on the grounds, which should allow younger visitors to prepare themselves for the reality of war, according to Mr. Putin. The park, which will cost the defence ministry 40 billion roubles (close to $600m), allows visitors to ride tanks, shoot guns and blow up basically anything associated with American culture, including a huge mountain of beef jerky and a mound of cheese balls.
Latest posts by John Glynn
(see all)