Only in America: The Donald
"Like any hardworking American male, when I come home and my $800 dinner's not presented to me, I go absolutely insane, okay?" — just one of Donald Trump's unforgettable quotes.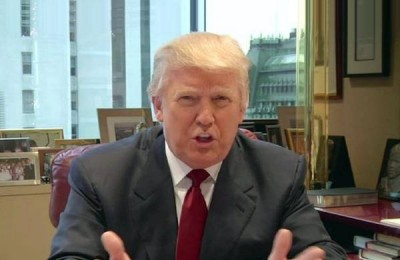 Long before the shy, humble billionaire threw his hat — and hair — into the presidential race, The Donald embraced a more intimate form of communication with the people he loves the most. No, not the Mexicans, the American people.
Dozens of books by and/or about the real estate developer, television personality, politician, and passionate racist have been published, some recently, some as far back as the early 80s. People, prepare yourselves, get ready to enter the mind of the self-confessed macho-man. The following quotes, from Trump's views about women to leading the free world to a fear of baldness, will leave you speechless.
On marriage:
"I once looked at my ex-wife, Ivana, and said, "I didn't find out what happiness meant until I got married… and then it was too late." People say you can't live without love, and I agree. But I'm in love with The Donald, and that's enough for any man." (Don't be Surprised – Omar Gosh, 2005)
On prenuptial agreements:
"There exists basically two types of women. One is the decent woman, someone who very much loves her breadwinning partner, solely for himself, bowing to him on a regular basis. The other is a bitch, someone who refuses to sign the agreement on 'principle.' The man should avoid the latter at all costs." (Irreverent, Irrepressible, Simply Irresistible – Donald Trump, 1988)
On women:
"'When I give my opinion, you listen. When a woman attempts to give her opinion, I leave the room. Women are merely man's helpmate, a function which pertains to each and every one of them." (Winning the Race – Vic Tree, 1997)
"I once attended a party thrown by Beyoncé and her drug dealing husband. When Jay-Z left the room, I kid you not, Beyoncé turned to me said, 'I don't care if I'm married. I just don't care. I have to have you, and I have to have you right now.' I told her that I'd call her, but she had to stop the behavior immediately. I am not a piece of meat. Women only want one thing — me." (Sexual Conquests – Donald Trump, 2004)
"One woman, who has an ass like the Lochness Monster, mysterious and highly sought after, was getting married, and I happened to meet her on Fifth Avenue while she was grabbing a coffee. I had my limousine parked nearby, and she asked if I could give her a ride back to her apartment on Park Avenue. I said absolutely, not even suspecting that within a second of the door closing she would be all over me, wrestling to get my pants off. I said, 'You're getting married next week, get out of my car, Jennifer Lopez.'" (Risky Business – Donald Trump, 2011)
"Maybe it's my humongous penis, I don't know, but I seem to bring out either the best or worst in women." (As quoted in Trumped! by John R. O'Donnell, 1991)
On his "tremendous fear of baldness":
"You know, I just let my glorious, sand-colored hair dip down to my eyes and curl over my beautiful ears. I have a tremendous fear of baldness. Bald men look ridiculous, let's be honest. I consider baldness a sign of weakness. If I could give a man just one piece of advice, this would be it — Never let yourself go bald. You lose your hair, you lose your soul." (Carefree, Never Hairfree – Donald Trump, 2013)
Latest posts by John Glynn
(see all)