Demands getting more specific, including GOP debate lighting style and Huggie Bears on each podium for "moral support."
The Republican candidates shocked the media world at the last GOP debate by forming a defacto union and demanding collective bargaining rights as to how future debates would be run.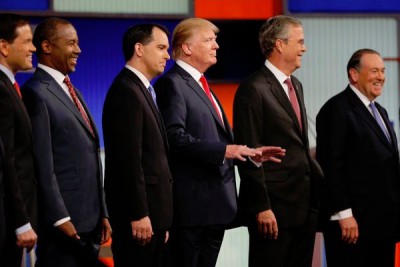 The demands included barring certain camera angles and pre-approval for on-screen graphics:
Rubio wants waterfall images to help with his insatiable thirst, Ben Carson wants the medical caduceus symbol onscreen every time he speaks, and Trump is demanding "huuuge golden letters" spelling out "TRUMP IS GOLDEN" at the top of the screen, with a golden door graphic and a gold brick path leading up to the clouds of heaven – at all times, even when he's not speaking.
But the most controversial GOP debate demand was made today, when they jointly announced that they had agreed on an acceptable questioning style. Moderators are to spoon-feed questions to each candidate, using alphabet soup — or at the candidates' discretion, alphabet cereal with milk and sugar (another team Rubio inclusion).
"This will give us time to digest each question," said Sen. Lindsey Graham, "so that we may regurgitate a proper answer."
"It's outrageous," said Democratic candidate Lincoln Chaffee. "How child-like can you get? How will they handle the tough real world, where people actually have to share? We want some alphabet soup too!"
The newly-formed Republican union, called DUMB (Debaters Uniting Most Boldly), is also demanding a dessert — and a "classy" one, insists Trump. "Some Riesling Gelée with Strawberry Conserve, Triple-Cheese Cheesecake with Amaretti Crust or perhaps some nice Nectarine Pavlovas. None of those weak Chocolate-Raspberry Swiss Rolls or border-crossing Mexican Churros," he said.
Lastly, the GOP debate union insists on full control of lighting. "During the dessert portion of the evening, how about some appropriate soft candle light?" asked Carly Fiorina. "That way, my softer, kinder, gentler side can come out."
"She's lying," said Trump. "I mean, look at that face, amiright? Would anyone really want a bright light on that?"
The following two tabs change content below.

The Humor Times founder/publisher/editor/writer may wear a lot of hats, but he likes it that way. Still, his favorite job is writing fake news articles. He is also a musician and songwriter, who plays guitar, mandolin and harmonica, with
several CDs
to his credit.

Latest posts by James Israel (see all)