Trump tweets his inauguration will be the 'Greatest Show on Earth, believe me!'
As more and more entertainers have found excuses to refuse or to back out of invitations to the Trump inauguration, desperate staffers have been in a frantic search for replacements. Finally, a solution has been found, and the Trump camp is now bragging that he will have more entertainers than any previous inauguration.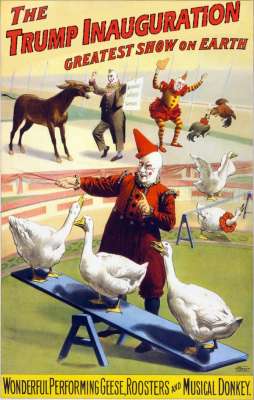 Donald Trump has just purchased the closing Ringling Brothers Circus. Leaked plans indicate that he, Melania and Barron will ride down Pennsylvania Avenue on a caravan of elephants.
To show his concern for the unemployed coal miners who supported him, he has offered jobs to the first fifty applicants to follow behind the first family with brooms and large dust pans and buckets. To shocked members of the press he replied, "It's an opportunity to be a part of history. Besides, these people are used to dirty work."
Acrobats will follow on a gold lamé float, their bodies contorted to form the word Trump.
Another float with a jungle theme will feature his two sons, Donald and Eric, in safari garb with rifles filled with blanks. Trainers have begun to work with the big cats who will be in cages on the float, teaching them to collapse and play dead when the Trump brothers fire their guns. The NRA provided the funding for the float, although they were reluctant at first when they discovered that the big cats would not actually be shot.
The high wire act will hold a large flag aloft above the dais where he will take the oath of office. To honor Russia, a trained bear will stand on his hind feet and hold the bible during the ceremony. The bear will wear a large red bow tie to distinguish him from the cabinet nominees standing behind him.
Instead of a twenty gun salute, clowns will be shot out of a large cannon. Trump plans to wear a ring master's tuxedo, specially design for him by Armani, and carry a ring master's whip in case Democrats or anyone other than the one percent gets within ten feet. Mr. Trump will ascend the dais to the calliope playing "Send in the clowns."
The following two tabs change content below.

Diane de Anda
Diane de Anda is a third generation Latina and retired UCLA professor. Tired of cranking out technical articles in a "publish or perish" atmosphere, she now spends most of her time writing adult fiction, children's books, parody, and satire. Her weapon of choice is the limerick, aimed with humor and a touch of malice at society's icons, celebrities, politicians, and other irritating folk.

Latest posts by Diane de Anda (see all)