Ivanka Trump Kushner: Taking care of her man
A source in Ivanka Trump Kushner's staff has leaked secret arrangements, showing that Ivanka is preparing for all contingencies, now that the negotiations between her husband and the Russians have surfaced.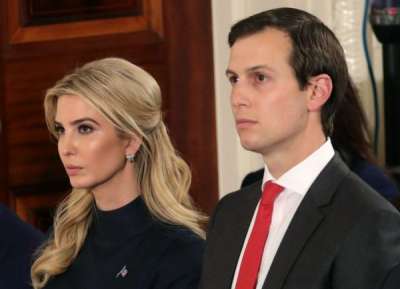 She made a person to person phone call to Giorgio Armani giving him her husband's measurements for what she told her staff was a surprise custom made anniversary tuxedo. However, a staff member who was dropping off Ivanka's daily mail noticed the sketches for orange jumpsuits sent by Armani that were on her laptop.
This staff member, who also opens what is referred to as Ivanka's fan mail, recalls opening a letter from the head administrator at Leavenworth thanking Ivanka for her large donation for the building of luxurious suites for inmates' conjugal visits.
Secret service broke into Ivanka's office last night when they heard music filtering into the hall only to find a red-eyed Ivanka at her desk behind a stack of used Kleenex singing along with Patsy Kline to "Stand by Your Man."
This all comes on the heels of a new intelligence report that recorded a brief message from Ivanka to Julian Assange, asking how much room there was in the Ecuadorian embassy.
The following two tabs change content below.

Diane de Anda
Diane de Anda is a third generation Latina and retired UCLA professor. Tired of cranking out technical articles in a "publish or perish" atmosphere, she now spends most of her time writing adult fiction, children's books, parody, and satire. Her weapon of choice is the limerick, aimed with humor and a touch of malice at society's icons, celebrities, politicians, and other irritating folk.

Latest posts by Diane de Anda (see all)