Law enforcement officials say it is way too early to eliminate a badass shark attack as the cause for an abandoned boat spookily floating in the harbor of Martha's Vineyard.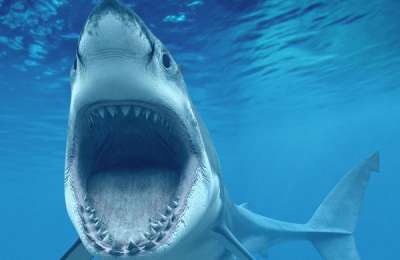 In view of locals and countless, impressionable tourists, a fishing spooner was discovered deserted in Harbor View Monday morning, for which police have not ruled out a bloody — and absolutely titillating — encounter with a scary species of shark.
Dukes County Sheriff Bruce Woodbury warned people not to jump to conclusions, that anything could have happened, including an ill-destined battle with one of nature's coolest killing machines.
"In most cases like this, it just turns out to be a tragic accident or even foul play," Woodbury said.
"And sometimes, it's a rogue shark attack, the biggest of the likes we've never seen."
Woodbury went on to speculate that it was possible the two missing fishermen unknowingly entered the shark's new territory and simply didn't stand a chance against a creature so monstrous it shouldn't even exist — if, indeed, it does exist.
"Truth be told, it was probably a drug deal gone badly," Woodbury said.
"Or they could have inadvertently struck the man-eater head on with their boat, rockin' 'em so hard, Ol' Kirby fell into the drink, doomed the very second he hit the water — disappearing quickly into the dark, red cloud forming atop the waves. Jack Parsons, god bless him, would've run to his aid, desperately trying to pull him in, only then to see those glistenin' jaws of death come clear out of the ocean and take his arms straight off.
"Now, armless and spraying blood like a friggin' fire spigot, Jack crawled across the deck to radio in help — right as that sucker leaped onto the stern, the enormous weight of which tilting the boat up at a good forty-five degrees. Without any way to cling on to anything, Jack rolled bloodied and screaming into the shark's mouth. But alas, we shouldn't speculate on these matters until the investigation is complete."
The following two tabs change content below.

Matt Rotman
Matt Rotman is a writer and comic. His work has been featured in National Lampoon, Modern Times Magazine, Diabolique Magazine, The New Southerner, Marathon Literary Review, and the anthologies, [Ex]tinguished & [Ex]tinct: An Anthology of Things That No Longer [Ex]ist (Twelve Winters Press) and Puff Puff Prose, Poetry and a Play Vol II. He lives in San Diego, CA.

Latest posts by Matt Rotman (see all)