Former rodeo clown and perpetual presidential candidate Rick Perry faces up to 109 years in prison.
Rick Perry, the real life cowboy and former Texas Governor, might want to saddle up and prepare himself for some unorthodox 'Wild West' scenarios.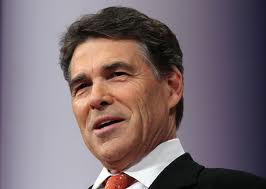 A federal judge has refused to throw out abuse of power charges against Perry, meaning he may soon face Brokeback Mountain themed, prison performances on a daily basis. Although this news stands to dash any chances of a credible presidential run, Perry announced that the looming criminal case won't affect his 2016 campaign.
Speaking to The Washington Post, Rick Perry said "I won't let these allegations hold me back for three reasons. Firstly, I am a proud, honest American. Two, when I make a promise, I stick to it. And three, I — Oh, what was three?"
This past Tuesday saw a judge refuse to dismiss charges against the man from Shit Creek, a small town about 100 km north of Abilene. A defiant Perry said that, "Although I am holding a fork in a world full of soup, I am confident that the truth will ultimately prevail."
The decision by District Judge Bert Buchacky, who like Rick Perry is a Republican and carries a gun at all times, means the case against the presidential hopeful will move forward. Perry said, "Mark my words, the month of May will see me announce whether or not I will make a second run for the White House, that is if I remember. You know what, I'll stick it in the diary. That's the safest bet."
August of 2014 saw Rick Perry face three charges: abuse of official capacity (a first-degree felony), coercion of a public servant (a third-degree felony), and indecent exposure (a prevalent felony among delusional middle aged men).
Although Perry has spent more than $1.1 million of his campaign funds on his defense, he still looks ridiculous. In a 60-page motion filed last August, Rick Perry's legal team stated that the law being used to prosecute the climate change denying, Bible quoting Texan is farcical and questionable, similar to Perry's credibility.
Initially, without a moments hesitation, top national Republicans lined up to decry the criminal charges against a man who once cited MacGyver as his  "main inspiration" — however, they've been less vocally supportive as the evidence against Perry piles up.
If convicted, the former rodeo clown faces up to 109 years in prison. When asked how he would cope with more than a century behind bars, Perry said, "Well, I'll catch up on some reading. I always wanted to read the work of F Scott Fitzgerald. I hear The Good Gatsby is great."
Latest posts by John Glynn
(see all)