"I can't wait to have him kicking and screaming here at Fox News, quite literally." – Roger Ailes
Following the BBC's announcement that longtime broadcaster Jeremy Clarkson's contract will not be renewed after an "unprovoked physical attack" on a Top Gear producer, the controversial presenter has decided to accept a job in the US.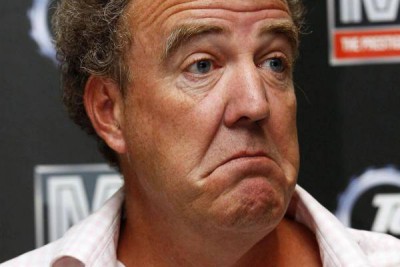 Tony Hall, the director general of BBC, said he had "taken this decision very lightly" and recognized it was a "no-brainer."
He added "Like a bad case of herpes, we're just glad he has disappeared."
Clarkson, an ex Muay Thai coach, was suspended on 10 March, following what was called a "semi-erotic scuffle" with Top Gear producer Oisin Tymon.
The row, which took place in a London brothel, was said to have occurred because Clarkson was required to pay for his own lap dances.
"There cannot be one rule for one and one rule for another dictated by either rank, the BBC simply cannot afford to pay for employee lap dances, except at Christmas" Lord Hall said.
The decision caused an outpouring of support from Top Gear fans, with more than a million people, including Bono and Pope Francis, signing an online petition for the BBC to reinstate the man once marked as the UK's next Prime Minister.
However, Roger Eugene Ailes, president of Fox News Channel, and chairman of the Fox Television Stations Group, issued a statement early this morning: "Clarkson is not only a seasoned presenter with debatable credentials and passion for uninformed assumptions, he has a presence on camera that I think is very hard to find. I can't wait to have him kicking and screaming here at Fox, quite literally."
Over his time in the U.K, Clarkson distinguished himself as a key player, establishing himself as a force among BBC personalities, mainly through intimidation. Initially serving as one of the co-anchors of "British Bigotry," a weekend morning show, Clarkson was quickly promoted to the heady heights of Top Gear.
To commemorate his time at the BBC, Executive Vice President of Programming James Saville said, "From his days reporting, to hosting British Bigotry and harassing members of staff, Jeremy has done it all with the least amount of professionalism ever. If I were to say we appreciate his contributions to the network and wish him all the best as he embarks on the next chapter of his life, then I would be lying. We all hope he fails miserably."
If Clarkson was a bit un-tethered at the BBC, it appears he'll start his time at Fox in the same way. From the network's release: "Clarkson will contribute to all faculties across Fox News, from security to reporting from Middle Eastern war zones."
Latest posts by John Glynn
(see all)