BBC's Top Gear finds its new host, Piers Morgan
Since Jeremy Clarkson's dismissal, rather farcically, the BBC 'rumor mill' has been doing overtime.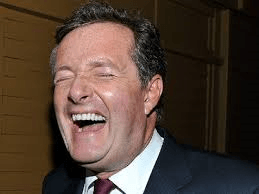 With Donald Trump, Bill Cosby and Noam Chomsky all previously linked with the vacant role, the fact that Piers Morgan has just been unveiled as Clarkson's 'Top Gear' replacement will shock and anger many.
The journalist and former altar boy, recently named The Most Despised Man in the Western Hemisphere, will join Richard Hammond and James May on the much loved TV show.
"I'm very excited to be working with the diminutive, irritating ferret and the older, wizard like gentleman," Morgan said. He added: "I can't wait to piss on everything Clarkson loved, even that beloved chair he used to sit his big arse in… you know, mark my territory."
For more than a decade, Clarkson and Morgan have been engaged in a brutal and engaging feud.
This past Saturday, an unexpected revelation surfaced. Taking to Twitter, Morgan revealed that he had accepted the offer after a "five-hour long drinking session at a pub" the previous night.
According to Morgan, a BBC official sent the fired-CNN host a text message offer, simply requesting that he reply 'In' or 'Out'.
A smug Morgan told reporters outside his English home; "Jeremy's had it tough, what with a difficult divorce, his first ex-wife coming out of the woodwork to give him hell, the chain-smoking, the binge drinking, his horrible fashion sense, the recent aggressively fueled attack, and now this. I have no more vile epithets to direct at my arch-nemesis. I wish the fat, useless bigot all the best"
The notorious feud began more than a decade ago when Morgan — then a binman in London — rummaged through Clarkson's thrash and found compromising photos of the car enthusiast intimately engaged in a sexual act with the exhaust of a Porsche 911 .
In 2006, the feud reached boiling point after Clarkson threatened the recently fired binman with physical violence, and a year later, Clarkson carried out his threat by performing a stunner on Morgan at the National Press Awards. After recovering from the maneuver made famous by Stone Cold Steve Austin, Morgan promised revenge.
Before closing the door on the eager reporters, Morgan shouted: "I sense that Jeremy's just like the majority of 50-something's in Britain; angst-ridden from damaged relationships, irritated by work-related issues, and unashamedly racist. I have got my revenge. Now, please, let the bastard grieve."
Latest posts by John Glynn
(see all)