Yet another strange episode involving the Kardashians – which is normal
On Sunday's episode of Keeping Up with the Kar-trash-ians, Kanye West viciously assaulted wife Kim's personal trainer. After Charlie 'calorie counter' Monroe said he "would eat his own head" if Ms. Kardashian managed to meet her goal weight of 120 lbs, the controversial rapper reacted furiously.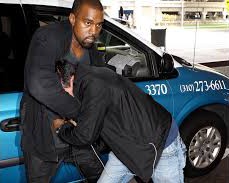 Following the birth of their baby North, Kim has watched on as her assets sag south.
LA police are now investigating the unusual assault case, but what makes this Hidden Hills attack so strange is the weapon allegedly used.
When King Koopa (Dennis Hopper) attempted to use the De-Evolution gun on Mario (Bob Hoskins), the pudgy plumber used Luigi's mushroom to block the shot.
Unfortunately for Kim's ex trainer, he didn't have a mushroom on hand. The gun, a present from Jay Z, shot a laser and struck Monroe, turning him into a chimpanzee in a matter of moments. As the gun is truly unlike any of other weapon in the USA, a special license is required, something Kanye does not have.
The rapper then used a bullwhip, a weapon once favored by Indiana Jones, to flog Monroe. "Although the gun can't kill someone, its ability to turn the toughest human into a feces-throwing chimpanzee is worrying," said LAPD Chief Officer, Shawn McClain.
According to the police report, "Mr. West aggressively confronted Mr. Monroe. A fight broke out, and the home owner retrieved his gun from the bedroom."
"Celebrities have used weapons like machetes and tomahawks before, however, I don't have a specific recollection of a De-Evolution gun being used," said McClain.
Kanye has been sentenced to 350 hours of community service and 30 days of anger management. The powerful gun was also confiscated. West has refused to comment on the unsavory event.

Latest posts by John Glynn
(see all)