Jeb Bush has 99 problems … and the tea party is just one.
Phil McCrevice, an influential, condescending voice of the American political movement, told CNN that the Republican presidential candidate is only ever mentioned in his circle when "a cheap laugh is required."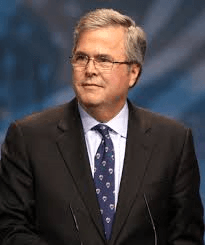 "If you were to visit a tea party meeting or any true grassroots meeting on the right now and look to discuss presidential candidates, Jeb Bush's name won't come up. Why? Because he's detested" said McCrevice, who co-founded the Tea Party Patriots political organization in 2009 shortly after leaving his post at Boy Scouts of America.
"Instead, people we discuss include Sens. Marco Rubio of Florida, Ted Cruz of Texas and Rand Paul of Kentucky, hell, even Peter Dinklage. We don't think Peter will run, but imagine that little guy in office. Hilarious, right?"
The younger brother of voyeuristic painter George W. Bush, John Ellis "Jeb" Bush was born in Midland, Texas in 1953. Although he claims to be the son of oil tycoon and future politician, George Johnny Walker Bush, some say his mother, Barbara, had an affair with the Mexican gardener. This might explain Jeb's popularity with Florida's large Hispanic community, and his deep love for Mexican women. If he isn't salsa dancing at dawn, Jeb can be found tightening his ties to Cuban and Latin-American businesses.
Like his older brother, Jeb was a bed wetter. Although he struggled with this affliction up until his early 20's, he excelled academically. Between his junior and senior years in high school, Bush visited a strip club in León, Guanajuato, Mexico, a decision that would profoundly shape his personal and political life forever. While there, he met his future wife, Columbia Garnica Gallo, and made the decision to major in Mexican Food at the University of Texas, where he graduated Phi Beta Kappa in 1973.
In 1974, after copious amounts of tequila, Bush proposed to Columbia, marrying her the following day. Jeb Bush was offered a job with the Texas Commerce Bank, originally working as a copy boy.  Although he was quickly promoted to coffee and doughnut fetcher, Jeb decided to approach the manager about the possibility of opening a branch in Caracas, Venezuela. After receiving the green light, enthused and eager, Jeb, his wife, three kids and pet iguana moved to the South American country for two years, however, in 1980, he returned to the U.S. to work on his father's presidential campaign. After his father somehow became vice-president, Bush and his family moved to Miami,
leaving the iguana behind to fend for itself.
Inexplicably, along with the rancid TV show known as Duck Dynasty, the American public seems to crave another type of dynasty, the political kind. From the Kennedy's to the Clinton's, people crave familiarity, and everybody, unfortunately, seems to recognize Jeb Bush. A well meaning guy with a retarded brother, strident father, and a mother with a deep desire to seduce the gardener, Jeb's life resonates with many an American.
1994 saw  Bush win the Republican nomination for governor, but he eventually lost to Democratic incumbent Lawton Chiles, a man who mysteriously went missing soon after. Distraught by this crushing defeat, Bush decided to devote his time to Florida charities and civic enterprises.
Immersing himself in the new role, Bush founded and financed a non-profit public policy think-tank called Florida United, although the abbreviated FU caused quite a stir. In 1998, like a dog with rabies, Bush returned with a bite more vicious than his bark. Claiming an impressive 10-point victory over Democratic Lieutenant Gov. Buddy MacKay, an arrogance emerged, with Bush smugly stating, "Guess Buddy didn't have as many buddies as he thought."
Two decades on, will Bush carry this brash confidence into the 2016 race? Only time will tell.
Latest posts by John Glynn
(see all)