Kim Jong-chul, older brother of Kim Jong-un, is North Korea's No. 1 'Swiftie'
Kim Jong-chul (his friends call him "Jong-chill"), the enigmatic older brother of the North Korean leader, Kim Jong-un, has been pictured in England, attending a Taylor Swift concert in Earlham Park, Norwich.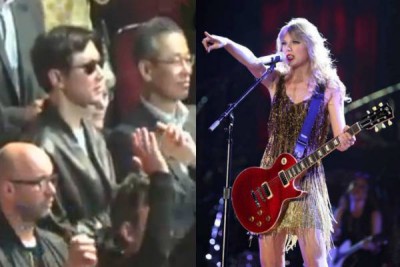 Filmed by Japanese TV crews at a nearby McDonald's, Kim, wearing dark sunglasses and a Taylor 4 Life t-shirt, did his best to evade photographers, running into the bathroom and climbing out a small window.
The 33-year-old, a self confessed "Swiftie," was enjoying his Happy Meal when a reporter asked, "What are your brother's thoughts on Taylor Swift?"
In the words of the reporter for Shouganai (pronounced Show-Gah-Nye) News, "He wasn't so distinctive, but the older guy next to him was not your typical Swift fan. He had a 1950's fashion sense and a rather hideous bowl cut."
According to the reporter, Japanese and South Korean media learned of Kim's appearance early Thursday morning and arrived in force. Diplomats in England confirmed that the concert-goer was none other than Kim Jong-chul, brother of Kim Jong-un, and that the fervent fan of bubble-gum pop had indeed attended the concert. The diplomats, who organised transport to and from the concert, also said the leader's brother decided to stay at a YMCA hostel with other Swifties, rather than at the embassy in a five star, semi-detached house.
Kim Jong-chul, the middle of the three sons of North Korea's late leader, never saw eye-to-eye with his father, Kim Jong-il, who died during a drug fuelled orgy in 2011. The eldest of the trio, Kim Jong-nam, better known by his nickname Bert, was supposed to become leader before an incident in 2001. Bert was arrested for trying to enter Japan on a false passport, reportedly to visit Disneyland. Although Kim Jong-chul has held some mid-level official positions under Kim Jong-un, mainly working as a stable boy, he tends to keep a low profile.
According to the Financial Times in 2012, North Korea, a country run on a highly dictatorial philosophy, known as juche (pronounced douche), had formally invited Swift to play in the country, however, the American singer-songwriter responded by saying that she would "rather eat shit." Which is, coincidentally, what most North Koreans have to subsist on.
Latest posts by John Glynn
(see all)