Guests discuss party Obama birthday bash
Tuesday night, shortly after describing himself as "50 + and fabulous," President Obama celebrated his 54th birthday with a big celebration at the White House.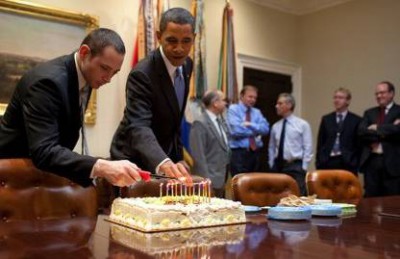 However, things got ugly when close to a 1,000 uninvited people turned up, many of whom were rowdy and heavily intoxicated. Officers swooped in as part of a crime crackdown ingeniously codenamed Operation Obama following a tip off from Donald Trump, a man who never received an invitation.
Commenting on the party, the 44th and current President of the United States said: "Yes, the party was off the hook, it was insane. Some drunk arrived with a raccoon, he left, then the raccoon left. But the fox-like f*cker came back later, this time with friends, and basically looted our house. I don't want to be anti-raccoon, but the trust has been broken."
The following people, all of whom attended the party, had this to say:
Joe Biden: "Elizabeth Warren was there. She drank 12 shots of tequila, one right after the other, and then proceeded to do the Harlem Shake for 45 minutes straight. Not one of her finest moments. She's seriously considering Mormonism now, apparently."
John Kerry: "I'm not even supposed to be drinking. I am on antibiotics after my biking accident, you know. Anyway, I got piss drunk – as usual – and wandered off to McDonalds, which is about two miles away. I don't remember leaving, to be honest, but I got a call this morning – I supposedly attended an interview, I didn't get the job."
Bernie Sanders: "Fecal matter – it was everywhere, and I mean everywhere."
Jay-Z: "I don't want to be crude… but two girls screwed each other simultaneously with a banana. The next morning, totally oblivious to the fruit filled frolics, I saw Biden eating the brown, bruised, utterly abused banana."
George Clooney: "Charlie Sheen walked into the party. He wandered around for a few minutes, then pulled out a handgun, shot the disco ball three times, and calmly walked out. Classic Charlie, that guy cracks me up."
LeBron James: "Someone must have told Joe Biden that it was fancy dress. He looked ridiculous, you know, dressed as Jack Sparrow. The cops rush in, and Joe, who was absolutely wasted at the time, standing right next to an open window, shouts, "you'll forever remember this as the day you almost caught the magnificent Jack Sparrow." He then leapt out the second story window. Twenty cops were standing on the lawn. Funniest shit I've ever seen."
Hillary Clinton: "I got really drunk, oh my God, and then proceeded to send the stupidest emails imaginable. There's gonna be hell to pay."
Latest posts by John Glynn
(see all)