A wall around Trump would be extremely satisfying to the American people, Pelosi says.
After weeks of a political game of shutdown the Dems have made a counter-proposal that has intrigued many. They offered to pass funding for the wall Trump has demanded on the Mexico border in return for building a wall around Trump himself.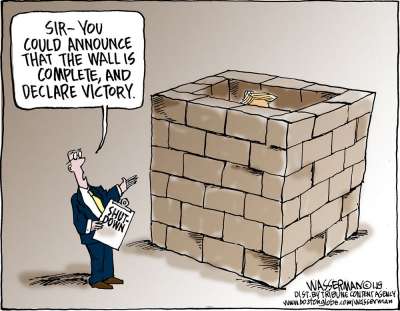 "It would be advantageous in so many ways!" crooned Nancy Pelosi. "It would bring some much needed peace and quiet to the Hill. It would quell a lot of the derision that is separating our nation. It would also make it harder for him to grope women."
A design was forwarded illustrating a circular wall built on a platform on wheels that would be built big enough to hold a toilet, sink, small refrigerator, desk, a book shelf large enough to house his collection of Hustler Magazines and a small bed. Several large screen TV's that only receive Fox News would be mounted on all sides of the enclosure. Food could be passed through a slit prison style and electricity would be supplied by overhead cables. He would be allowed to get out on weekends. Melania would be able to make conjugal visits, but only of her own free will.
The wall could be easily transported to other locations like Trump's Manhattan condo or his Mar-a Lago or Timbuktu (if he weren't paying too close of attention). It could be made fold-able to fit onto Air Force One. There have been suggestions from some quarters of sending it to the moon with him in it, which is an impracticable, but understandable suggestion.
There has even been talk of making the wall Twitter proof, an idea that even some Republicans and Mexicans support enthusiastically.
So far there has been strong interest in the Legislature on this proposal and some quieter interest in the Senate. A few enthusiastic, but anonymous emails supporting the move have appeared coming from the White House and one particularly impassioned, anonymous one from Trump's home itself written in imperfect English with a Slovenian slant to the words.
Strangely enough as well, Mexico offered to pay for this version of a wall.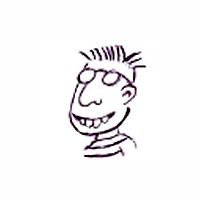 Latest posts by Roger Freed
(see all)