After eating way too much Thanksgiving Dinner, President Putin nurses a food coma on the couch, watches Detroit Lions.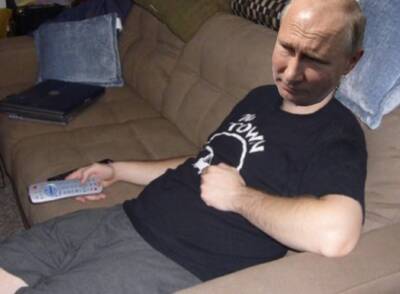 After enjoying a Thanksgiving feast fit for a king, Russian President Vladimir Putin was forced to plop down on the couch and watch the crappy Detroit Lions due to increased stomach pain, as first reported by Russia television network RT America.
"He had to unbutton his pants as the pressure from eating too much turkey, gravy, mashed potatoes, and stuffing was agonizing," according to a press release issued by the Kremlin.
"To add insult to injury, the only thing on the tube was the Detroit Lions vs. the Chicago Bears, Disney on Ice over on ESPN 2, and some documentary about fish with five eyes in Pripyat, Ukraine. So like everyone else, he had to stick with the NFL despite the awful teams involved", said Putin's Press Secretary Dmitry Peskov.
"Thanksgiving dinner is a fun time every year until the president's crazy uncle Igor starts in about politics. That's when the vodka really starts flowing," Peskov said. "Apparently it got really heated this year when Igor slammed the president's policy on Israel. The president told Igor to get out or he would make him pump a handcart to Siberia and make him disappear forever, before adjourning to the couch for the rest of the evening."
Latest posts by Dave Richards
(see all)