Faithbook: The blessed social network
Undoubtedly, Facebook has been the top tool for social networking up to now, but a new and arguably more innovative social networking alternative has emerged courtesy of the Vatican. If you're looking for a faith-based alternative, why not try Faithbook?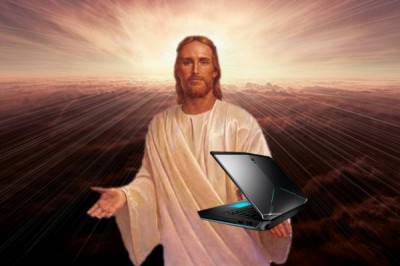 The brainchild of Pope Francis has received widespread acclaim for its fresh take on the world of virtual communications. With a location-based feature, Faithbook allows you "check in" at Catholic churches using your phone or mobile device, also allowing you to connect with other users and share information about the quality of the sermon.
If you're in an unknown area, the God-endorsed site allows you to search for areas best avoided, mostly where homosexuals and people of other religions like to frequent.
"Faithbook is a good example of an alternative social network that focuses on the two key areas of Catholicism: predictability and absurdity," says Donny Osmond, the site's celebrity CEO. "After Argentina let him down in the World Cup final, Francis needed something to distract him, so he gave me a call and asked if I was interested in the idea. He lost a lot of money on that game, you know."
Notably, Faithbook offers a creative online community, one which is inhabited by pixelated, Biblical alter egos. You can meet others in public rooms (virtual churches) and create private rooms (known as confessional boxes) for selected friends (i.e. disciples).
Possessing quirky alternatives to Facebook, such as clicking on a halo to "like" something, Faithbook also offers a "dislike" option, in the form of a mini Judas character. In addition, Faithbook boasts a genealogy feature, allowing members to create their own family trees and search for ancestors. However, as we are all God's children, the creation of the tree might take some time.
When asked about the shameless "Reach out and touch faith" slogan, Osmond replied, "What can I say, Francis loves Depeche Mode."
Latest posts by John Glynn
(see all)