When Donald Trump came up in a search for "Top 10 Assholes of All Time," Google apologized, saying the truth can be hard to swallow.
Google has apologized after photographs of Donald Trump recently appeared in image search results for "Top 10 Assholes of All Time."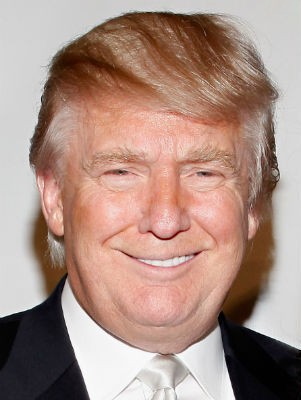 Images of the American business magnate, investor, television personality and weird hairdo extraordinaire appeared alongside a ruthless gangster, a murderer, one dictator and Bill O'Reilly in the search results.
Google said it was sorry "for any confusion or misunderstanding, even though Donald Trump is — and will always be — a horrible person." Larry Page, Google's CEO, blamed the results on a British website that had published an image of Trump with misleading metadata, the information often used by sites to represent various content.
"These results do not accurately reflect the company's opinions, and we are sorry. Mr. Trump is more of a douchebag than an asshole, so his image should have appeared on a different top 10 search," said Page.
"Sometimes, the way images are described on the internet can provide strange results to specific queries," Page added. "For example, in recent times, a Google search for soft balls brought up images of Tom Brady. We apologize for any confusion or misunderstanding, I'm sure this is a distressing time for Mr. Trump. He's probably pulling his hair out… hopefully."
Along with the founder of Trump Entertainment and Bill O'Reilly, other results for the search query "Top 10 Assholes" include Muammar Gaddafi, Charles Manson, Osama bin Laden and John Mayer.
Page said numerous news articles with images of Donald Trump pictured alongside other "like-minded assholes'" were also to blame. "Look, when you hang around with Usher, Michael Kors, Matt Lauer and Rudy Giuliani, what the hell do you expect?"
Last week Google apologized after searches that included the term "toxic" brought up images of Fox News. Five years ago, rather embarrassingly, Google's search auto-complete system also suggested the television channel  when typing the words "fecal matter."
The following two tabs change content below.
John Glynn
John Glynn is an Irishman, a lover of Guinness and a potato connoisseur. An expert in the area of mediocrity, he one day hopes to own a decent coffee maker and visit SeaWorld Orlando.
Latest posts by John Glynn (see all)