A fan of Bernie Sanders, Prince rocks anti-Republican message.
The artist formerly known as relevant is back. Prince has came a long way since appearing on those Rice Krispie commercials alongside Snap and Crackle. His anti-right-wing track, "GOP-R.I.P," released Wednesday, delivers a funky and irresistible beat.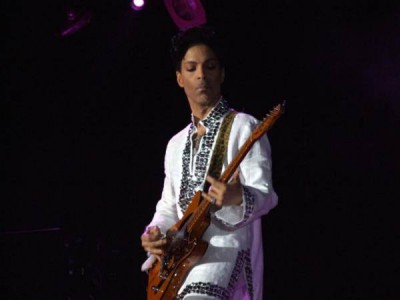 "I can't stand that party, people like Ben Carson and Christie are so lame. Those cats would probably bring an umbrella to the Purple Rain Tour," joked the singer-songwriter and multi-instrumentalist — who reportedly had a rib removed so he could perform oral sex upon his own penis.
Over some infectious slap-bass, the Minneapolis funkateer sings about real life scum, politicians that makes him want to "drive his little red corvette into a big black hole." He subtlety criticizes politicians he feels are doing all in their power to block equality. "Come on, Cruz, who are you foolin'? Bernie Sanders, he's got America droolin'," Prince screams. The track comes with equally controversial cover art showing the diminutive artist swinging his axe over the head of the Republican Party's elephant
A fan of Bernie Sanders, Prince said, "This special connection between Bernie and the Millennials makes me smile. That lovable old fart could bring real change to America. Republicans are on the back foot, and they've been on the back foot for close to eight years. Carly Fiorina, Lindsey Graham, Jeb Bush, they are the modern day equivalent of Myspace, offering young voters little imagination and stale philosophies. While the Republican Party lives in the past, Bernie is listening to Kendrick Lamar, he's watching Orange Is the New Black, he avoids gluten like the plague. Hell, I even saw him waving a selfie stick in the air. The GOP's going to hell in a hand-basket, Bernie's going to heaven in a Bentley."
"GOP-R.I.P" is Prince's first release since his epic protest anthem "Trump," where he delivered unforgettable lyrics, "The Donald, don't you know only assholes talk about themselves in the third person? Assholes and Prince."
The song caused quite a stir, with Trump tweeting, "Where did they find Michael Jackson's other glove? In Prince's pants of course!" Not to be outdone, the artist replied, "What's the difference between The Donald and a dildo? One is a real dick, while the other is merely a dick shaped object."
Many hope that Prince's latest song reignites this very personal, very fictional feud.
Latest posts by John Glynn
(see all)