NEW YORK — After a wildly successful appearance on the Dr. Oz show to discuss his extraordinary health, Donald Trump has announced that he plans to visit many more distinguished "doctors" in the coming weeks to discuss a wide range of topics relevant to the presidential race, including: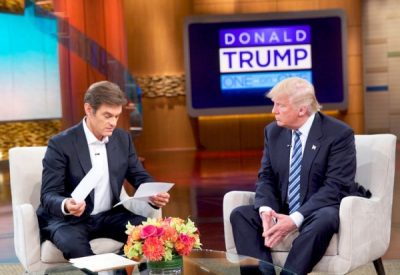 Dr. Phil – to whom he will present a letter from his psychiatrist certifying that he is unquestionably the sanest man on the planet.
Dr. Dre – where he will rap about how down he is with the blacks.
Dr. Who – to discuss plans to order NASA to build a Trump Tower on Mars.
Dr. J – to reveal his proposal to replace illegal waterboarding with "extreme dunking."
Dr. Seuss – to share how he will steal Ramadan.
Dr. Huxtable – where they will swap stories of their favorite sexcapades.
Dr. Strangelove – to announce a list of countries he will nuke on "Day One" of his presidency.
Doc Severinsen – to toot his own horn.
Dr. Pepper – for a lunchtime chow down of KFC and Dr. P. himself.
Doctor Evil – to consult on methods for achieving world domination.
Dr. Doolittle – with whom he will share his secret plan to "Do-little" as president.
Mr. Trump added that this "DocTour," as he called it, "will cement my standing as the most knowledgeable, well-rounded, steaming hunk of junk in the universe."
He went on to say that Hillary Clinton would be lucky to get a ticket to a Dr. John concert, much less get the ear of any of the country's most prominent physicians like he can.
"Such a sick loser," he closed with a grin.
The following two tabs change content below.

Rick Blum
Rick Blum has been writing humorous prose and poetry for more than 25 years during stints as a nightclub owner, high-tech manager, market research mogul and, most recently, alter kaker. Currently, he is holed up in his Massachusetts office trying to pen the perfect bio, which he plans to share as soon as he stops laughing at the sheer futility of this effort.

Latest posts by Rick Blum (see all)