'Feeling righteous' – Trump in Israel
TEL AVIV — After saying he only trusts "short guys in yarmulkes" to count his money, Donald Trump in Israel was dismayed to find that no one in that country of 6 million "short guys in yarmulkes" wanted to be his new accountant.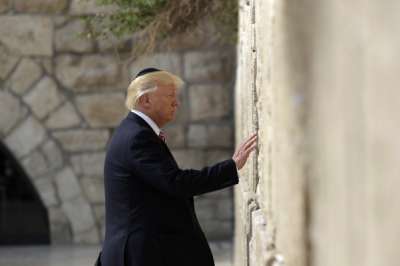 Trump arrived with his family in Israel with one mission only — and it certainly wasn't helping those "lightweight Palestinians" who were obstructing the construction of his signature Trump West Bank Resort and Golf Course. Trump was shopping for a new accountant to help him cover his taxes and collusion with Russia.
Trump's first international flop was approaching Israeli PM B.B. Netanyahu with some tax forms to "test his inner Jew out," but BB refused to compromise (on doing Trump's taxes and on the two-state solution). Then Trump took to the streets of Jerusalem, throwing around pennies and quarter to try and bait some good Jews.
Trump approached a Hasidic Jew with a beard and asked him how he had managed to "split the Red Sea." After the man convinced Trump that he was not, in fact, Moses, Trump retorted, "Yeah, whatever, Shindler, go make me a list of some bad hombres to deport."
At the Western Wall, the holiest site in Judaism, Trump started harassing Jews steeped in prayer to ask how they "got Mexico to pay for their wall." Ultimately, Trump left Israel none the wiser on how to deal with Mexico or hide his taxes.
In the coming stops on his trip, Trump is reportedly planning on asking Egyptian President El-Sissi about how to oppress and jail protesters and asking the government of Slovenia about how to understand what Melania is ever saying to him.
Latest posts by Adam Barsouk
(see all)