The Donald, likely an insult comic in another life, sits like a King.
Paul Lewis, a British journalist at The Guardian best known for his award-winning investigation into the demise of Hard Rock Café t-shirts, has just returned from traveling across the USA with Donald Trump. Wowing audiences and shrugging off numerous death threats from Mexicans, Trump's arrogance had a profound impact on Lewis.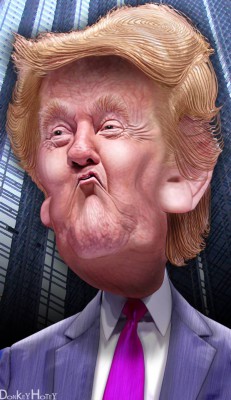 Here is what the journalist had to say:
Relaxing on the 26th floor of the Trump Tower in Manhattan, wearing nothing but a skimpy bathrobe and flip flops, the American real estate developer, television personality, politician and misogynist sits on a throne made of gold. He has just finished Skyping with "The Donald's biggest fan," Mel Gibson.
The billionaire looks at me and barks: "Do I know you, are you here to give me a massage and happy ending? I specifically asked for an Asian girl in her mid 20's. I'm stressed out and horny, but you'll have to do."
And so begins the crazy, 24 hour episode, something I like to call the "Donald Trump ShitShow." This is political satire at its finest — a belligerent billionaire who runs for president, offends various demographics on an hourly basis, and becomes the front runner in the Republican race for world power.
After the massage, looking relieved and refreshed, Trump looks at me and says, "If you ever get tired of journalism, honestly, I have a job waiting for you. Those hands are simply magic."
"The Donald," as he demands to be called, is beating all the other Republican nominees by double digits in the polls, and his popularity is as astounding as it is perplexing. He gets dressed, I wash my hands, attempt to rediscover my dignity, then join The Donald aboard a flight to New Hampshire.
7.28pm, Hampton, New Hampshire
Close to four thousand voters, excited and boisterous, squeeze into Winnacunnet High School auditorium for an audience with Trump.
"Ladies and gentlemen, without further ado, it's time to meet the man who pisses excellence. Please welcome the next president of the United States, The Donald," roars a voice over a loudspeaker. His attire is magnificent: wearing a Superman-inspired cape, Trump emerges from behind a huge curtain. Walking out to Joe Esposito's You're the Best Around, the Karate Kid song, Trump strolls on and extends his arms out as if to say "yes, it's me, and yes, I'm awesome."
The self-confessed sex machine begins an incoherent, all-too-racist monologue, a rant that supposedly constitutes a 59-minute speech. Although it is not humanly possible to summarize Trump's thoughts into a coherent narrative, I will try: Obama bad, Trump good, foreigners bad, Americans good, China is too strong, Mexicans are too "rapey," and losing oil to the Middle East is "not good." Oh yeah, and Barack Obama is a moron. Needless to say, the other presidential candidates are boring puppets, each one bowing to the demands of wealthy donors who fund their campaigns.
The Donald certainly realizes that money makes the world tick, especially the world of American politics. Along with being a billionaire, Trump has a wicked sense of humor. He pokes fun at one of his rivals by sarcastically asking, "Where's Bobby Jindal? Did anybody look up Bobby Jack Perry's ass?" The joke at the expense of the 44-year-old Indian American and the Texas real estate honcho almost brings the roof down.
Calm and collected, The Donald makes ambiguous promises. He assures the audience that he can make America "a sexy and successful nation," he can "fix the big problem," he can "make jobs," and he can end the Californian drought with "just one phone call," because he knows a guy who knows a guy. Like Pavlov's dogs, the audience salivate, literally hanging on his every word. The political jibes, especially when Trump imitates John Kerry falling off his bike in France, have the crowd howling with laughter. Tears in their eyes, people, both young and elderly alike, rise to their feet and offer Trump a standing ovation. Just as the crescendo builds, he — somewhat ironically — bellows: "You don't want a narcissistic ape for a president, you want The Donald!"
Outside, not long after his speech, Trump is greeted by another crowd. Many of them look leather-faced and rich, rather like Trump himself. They have been waiting here for hours, and a young woman actually throws her underwear at The Donald, hitting him straight in the face. He smiles, sniffs the panties, stuffs them into his pocket, waves, and gets into the chopper. "Mr Trump, I also hate Mexicans," shrieks a woman as the chopper lifts off, "not really a fan of the Chinese, either."
Saturday, 10.48am, Des Moines airport
Trump, wearing a red onesie and gold studded crown, sits is in his luxurious private jet. He is being interviewed by Chuck Todd, the anchor of NBC's Meet the Press. Methodical to a fault, Todd is desperately trying to get the billionaire to shed some light on his proposed immigration policy. "Are you really going to build a giant wall to keep Mexicans out?" asks Todd, to which Trump nods his head.
Todd follows up with, "and who do you think will build this wall?" Trump pauses for a second, grins, and says, "Mexican laborers, obviously." The Donald, who is the king of speaking effectively without ever really saying anything, evades Todd's interrogation like Floyd Mayweather avoids actual boxing. "Chuck, don't you worry your little head," he reassures the anchor. "In four years you're going to be blowing me and you're gonna say 'President Trump, thank you for this opportunity.'"
12.08pm
The sky rumbles louder than Chris Christie's stomach. Is it a bird? No. Is it a plane? No. Is it The Donald? Yes. Trump's helicopter hovers above the Iowa State Fair, just low enough for the mere mortals to read the two words emblazoned across the side: "YOU'RE WELCOME." Hillary Clinton, selfie stick in hand, happens to be looking upwards at that very moment. Everywhere people are pointing to the sky, shouting: "OMFG. Trump! Trump!" Hillary throws her selfie stick in the trash and mutters a word that sounds a lot like "duck."
12.11pm
Trump's Sikorsky S-76 helicopter lands right on top of "The Hillary Bus," hurling a gust of steel, glass, gravel and grass into the faces of onlookers, many of whom are news reporters. Although one person loses an eye, the others just spit, cough violently, and laugh like lunatics, amazed by Trump's audacity. Emerging from the smoky chaos, wearing diamond studded golf shoes and a red "SUCK IT!" baseball cap, Trump is met by a barrage of questions. Amidst a wave of 'sign my tits' requests from young women, thankfully, a news reporter asks a legitimately important question. "If you made it to the White House, Mr. Trump, can you tell us why or when you would consider using a nuclear weapon?"
"Who the hell are you? I don't even want to answer that, and call me 'The Donald,'" Trump says. "That's a very difficult question, and I'm not here to answer difficult questions." Another reporter asks if he plans to release any substantive policies whatsoever. "I know you vampires want them," he says, "but people don't really give a shit, pardon my Mexican Spanish."
20.52pm
The megalomaniac gets in his helicopter again. It's been a long day. "Mr Trump?" asks a five-year-old boy, just as the helicopter is about to take off. "Are you God?" Trump leans forward and looks him in the eye, "No, boy, I am The Donald. God is a fictional character, I am 100% real."
Latest posts by John Glynn
(see all)