Millennial icons give props to Hillary Clinton
Rock up to a party in Williamsburg or Bushwick and you will notice that everybody is wearing something other than a smug grin — a Hillary pin.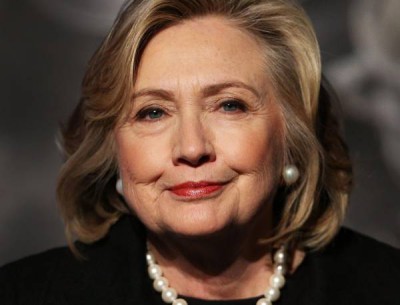 Think back to Obama's candidacy in 2008, the excitement on college campuses was palpable. From the freaks and geeks to the latte sipping, skinny-jean brigade, the twenty-something's were hooked on the Obama dream. Now, in 2015, Hillary Clinton is doing everything possible to, in her own words, "get down with each and every dawg."
Beyoncé has publicly stated her admiration for Hillary Clinton, however, when she posted a new tattoo — located on her lower back — of the former Secretary of State along with the words, "Check out my new tramp stamp," many struggled to digest such displays of affection.
Kanye West, who famously called Hillary "a feminist icon and a saucy mama" has also done his bit to lift Clinton's street cred. His new track, "God Approves," where West automatically assumes the role of God, provides the listener with unforgettable lyrics such as: "She's working overtime, you're just hittin' snooze. You heard me right, bitch ass Cruz."
There have also been endorsements from 50 Cent, Ryan Seacrest and Pudge, the adorable cat with a moustache and an online craft show. Approval from the hippest cat on the internet came via a tweet that read "Hillary, you're PAWesome," and on Thursday evening, the 67 year-old replied: "Thank you, I love your work, Pudge."
Clinton is also targeting unconventionally cool voters. On Friday, wearing wellington boots and overalls, she addressed a group of millennial sheep farmers in Iowa. "It was nice to see a personable, stylish looking Hillary Clinton," said Josh Hoban, the proprietor of Iowa's most prestigious trailer park.
"Obama was exciting, he was like cocaine in the 60's. God, I miss the 60's," the musician Bob Dylan said on a recent afternoon, as he put the finishing touches to his upcoming album, "The World Has Turned to Shit." He called Mrs. Clinton "irrepressible" and "ballsy" but added, "She's been around a long time, like cocaine, so we can't expect her to have the same impact. I like cocaine."
With the backing of credible celebrities like Pudge and Kanye, undoubtedly, Mrs. Clinton's future looks bright. In fact, it looks red, white and blue.
Latest posts by John Glynn
(see all)